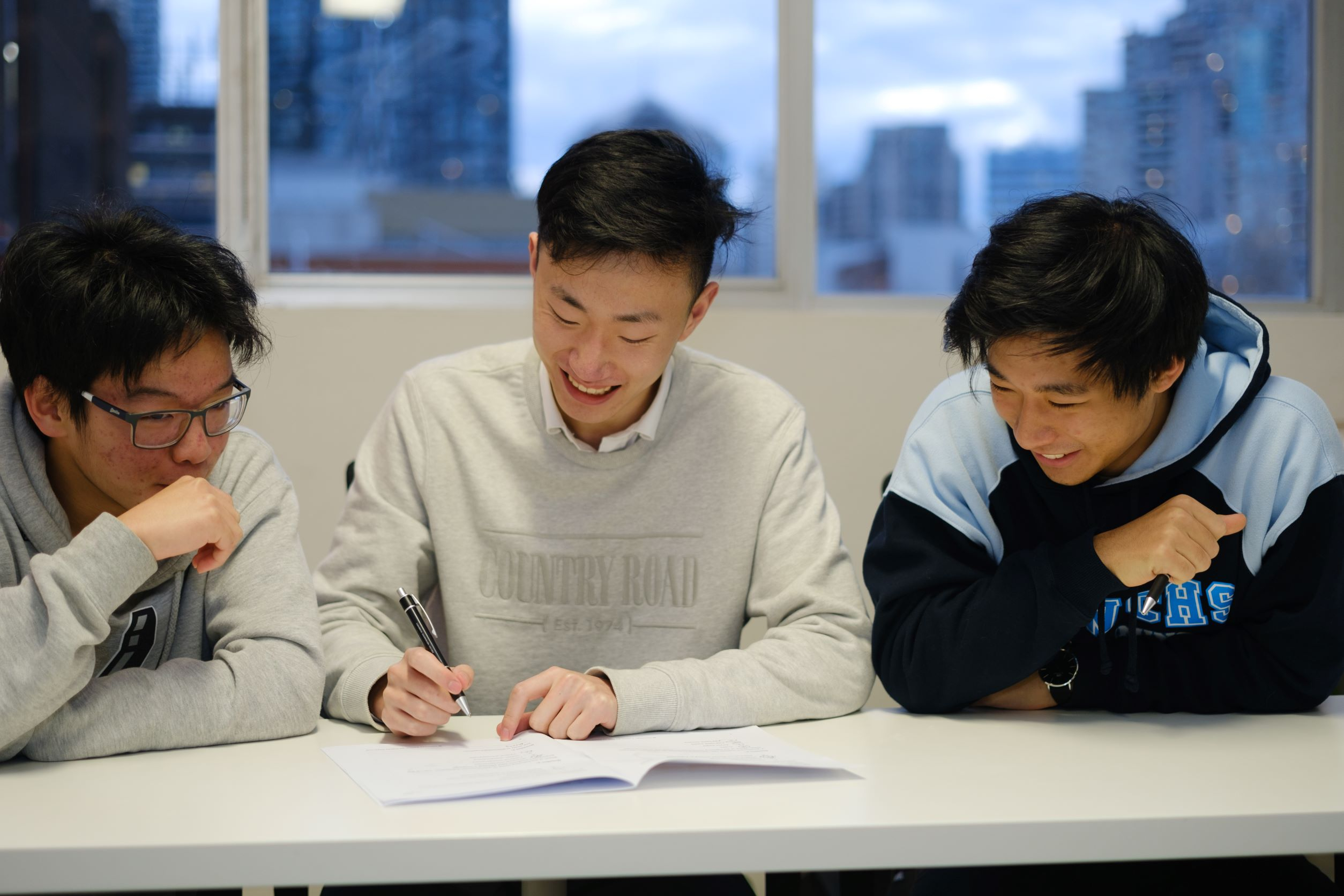 Don't Memorise.

Conceptualise.
Grasp the big picture from exceptional tutors in HSC English, Mathematics and Economics.
Sign up now for a personalised free trial.
Maximise your HSC potential.
We are not your typical tuition centre.
We use innovative teaching methods, provide holistic support, and go above and beyond — all to make sure that you achieve the results you deserve.
Exceptional Resources
Our workbooks are compiled by state-ranking tutors, and contain the most relevant theory and examples.
Classes That Adapt To You
Choose how you'd like to study: online or in person.
Our hybrid delivery of unrivalled weekly classes gives you options.
Holistic Exam Support
Get tailored, school-specific support for all your assessments with our on-demand marking.
Personalised Mentoring
Our high-achieving mentors are there to guide you through your HSC and life after the HSC.
Learn from tutors who know

what it takes

.
We are a friendly bunch who truly care about students' learning. From theory, through practice, to exams, we are committed to supporting you in all facets of academics, and beyond. Our vision is simple - to inspire all of our students to fall in love with learning, and for each student to realise their personal potential.
We love teaching and seeing our students succeed. We don't stop until our students get it.
Join a

vibrant

student community.
You are the average of the people around you. Be a part of a learning community of like-minded driven students from all across Sydney, with access to on-demand support from all of our tutors.
But hey, don't just take our word for it. See what our students have to say about us:
⭐️ ⭐️ ⭐️ ⭐️ ⭐️
"Concept Tuition is absolutely amazing, tutors are nice and friendly. As a graduate of 2021 cohort, their holiday program is a huge boost in confidence and the review sessions really helped with understanding difficult questions. Even after completing the holiday program, i'm still able to get in touch with the tutors and ask any questions I have."
⭐️ ⭐️ ⭐️ ⭐️ ⭐️
"I joined Concept Tuition around 10 weeks before the HSC, worried that I had not spent enough time understanding the complex theories of economics. I found that from what I had learnt at school, I was heavily underprepared for the final economics exam. At Concept, the state ranking tutors basically carried me from struggling in class to ranking 2nd internally for economics at NSB and smashing the HSC. Before I joined, the tutors had already dissected the long and convoluted textbook into a concise set of lessons and practice tests which completely covered the entire syllabus. I highly recommend Concept Tuition to anyone who really wants to make the most out of year 12 economics and do their best."
Rohan Wahan
Former Student / Current Tutor
⭐️ ⭐️ ⭐️ ⭐️ ⭐️
"Concept is an amazing tutoring organisation that is solely geared towards HSC success. Unlike other tuition places which dump a ton of information on you, Concept condenses information into structured sections which have been integral in understanding and organising knowledge. The staffs are extremely capable and friendly, and their passion is reflected in their teachings. Since joining Concept, I have acquired a deeper understanding of not only HSC content, but also the maximisation of marks which has enabled my education success."
Show more
Interested in Our Courses?
Give us a shot

with

a

no-obligation

trial

!
Conceptualise Pty. Ltd., All Rights Reserved.
ABN: 30 652 519 349